When it comes to protecting your pride and joy, we understand. Whether you're just starting out with lessons, transporting guitars to and from local gigs, playing the festival circuit or packing out stadia internationally; you'll find cases in the Hiscox range designed to protect your electric guitar on its travels. From Fender Strats and Telecatsers, Gibsons to cutaways – and pretty much everything between - we've got case styles designed to cocoon and protect your guitar's curves…
Triple Shield Technology
1. Incredible 1/2 tonne crush strength
2. Unique shock absorbing
technology
3. Class leading
thermal insulation
Proudly Handmade in England
Electric guitar neck angles explained
Fender® Strat/Tele Style Electric Guitar
Icons of rock deserve iconic protection. Our cases have been protecting guitars since 1985, and are trusted by many of the world's finest guitar makers to protect their creations, as well as world-renowned artists. Tailored to fit Fender Strat and Tele style guitars and many other types similar in size and design with zero neck to body angle.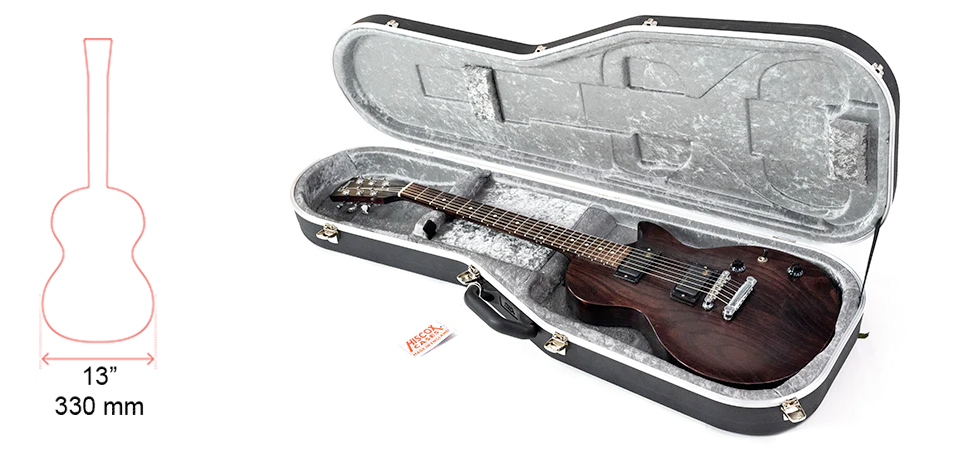 Gibson Style Guitar
Wrap the unmistakeable lines of your Gibson Les Paul type guitar with state-of-the-art protection. Incredible crush strength, outstanding shock absorbance and exceptional temperature control to keep your pride and joy pristine – all wrapped up in a sleek, lightweight case with luxurious finishing touches….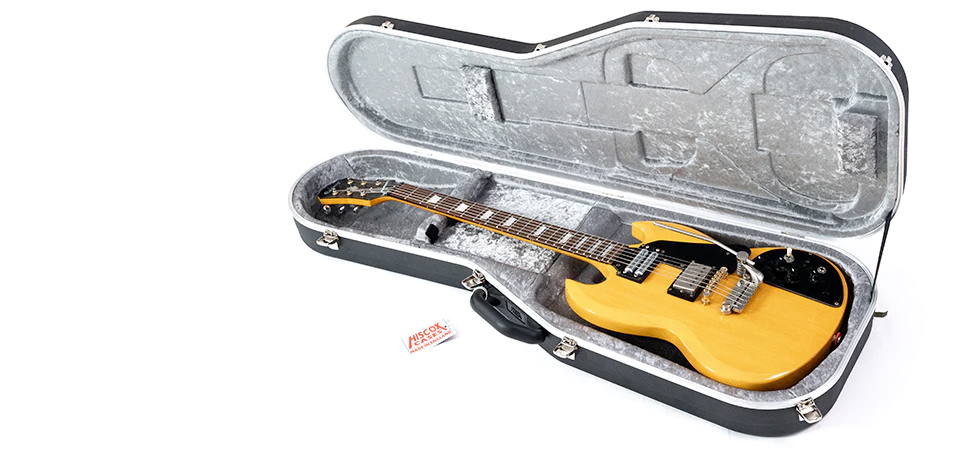 Gibson SG Style Guitar
Tailored to cocoon the slimmer, lighter body style of Gibson SG style guitars this case can withstand an incredible ½ tonne of crush weight. And the benefits don't end there – our unique Shock Absorbance Technology will keep your instrument safe in the toughest conditions, while Thermo-Balance Engineering will keep it in tune for longer…
PRS Style Guitar
Designed to fit the iconic shape of US-built PRS Style Guitars, our cases are engineered to offer unbeatable protection thanks to our unique Triple Shield Technology. Available in our PRO II Spec you can trust in your investment, whether you're travelling a few miles for lessons or hitting the gig and festival circuit hard.
PRS Style Single Cutaway Style Guitar
Cocoon your US-made PRS Style Single Cutaway Guitar in our Triple Shield Technology – epic crush strength, unique shock-absorbing technology and exceptional temperature control, with a luxe velvet lining to protect the tool of your trade.
Fender® Jaguar Style Guitar
Styled to hug the trademark offset waist of Jaguar/Jagstang outlines. Our Triple Shield Technology giving epic crush strength, unique shock absorbing technology and exceptional temperature control protects your precious guitar.
Parker Fly Style Guitar
The unique shape of the fully-moulded Parker Fly and Parker Fly Deluxe guitars demand unique protection – enter the Hiscox Parker Fly hard guitar case; tailored to envelop their unmistakeable outline. (Please note all other Fly and Nitefly models will fit in our Standard Fender case model).
Gibson Style Guitar, With Bigsby Tremolo Arm
Classic protection for a rock 'n' roll classic. The lid interior moulding on this case is sculptured to accept the iconic Bigsby style tremolo arm. Since 1985 our cases have been trusted by some of the best in the business – with our trademark Triple Shield Technology offering unbeatable protection in an elegant, lightweight case that's tough enough for life on the road.
Gibson 339 Style, And Smaller Semi Acoustic Guitar Cases
Safeguard your rock 'n' roll classic with one of our classic cases. Our PRO II spec hard case will help keep your Gibson 339 in all its gleaming, wooden glory - while also being suitable for other smaller, semi-acoustic guitar models.
Gibson 335 Style And Semi Acoustic Guitar Cases
If you're lucky enough to own a stunning semi-hollow Gibson 335 style guitar, you'll want to invest in the very best protection. Place your trust in a Hiscox PRO II spec hard case – tough enough to protect your guitar no matter where your musical adventures take you, and good looking, to boot…