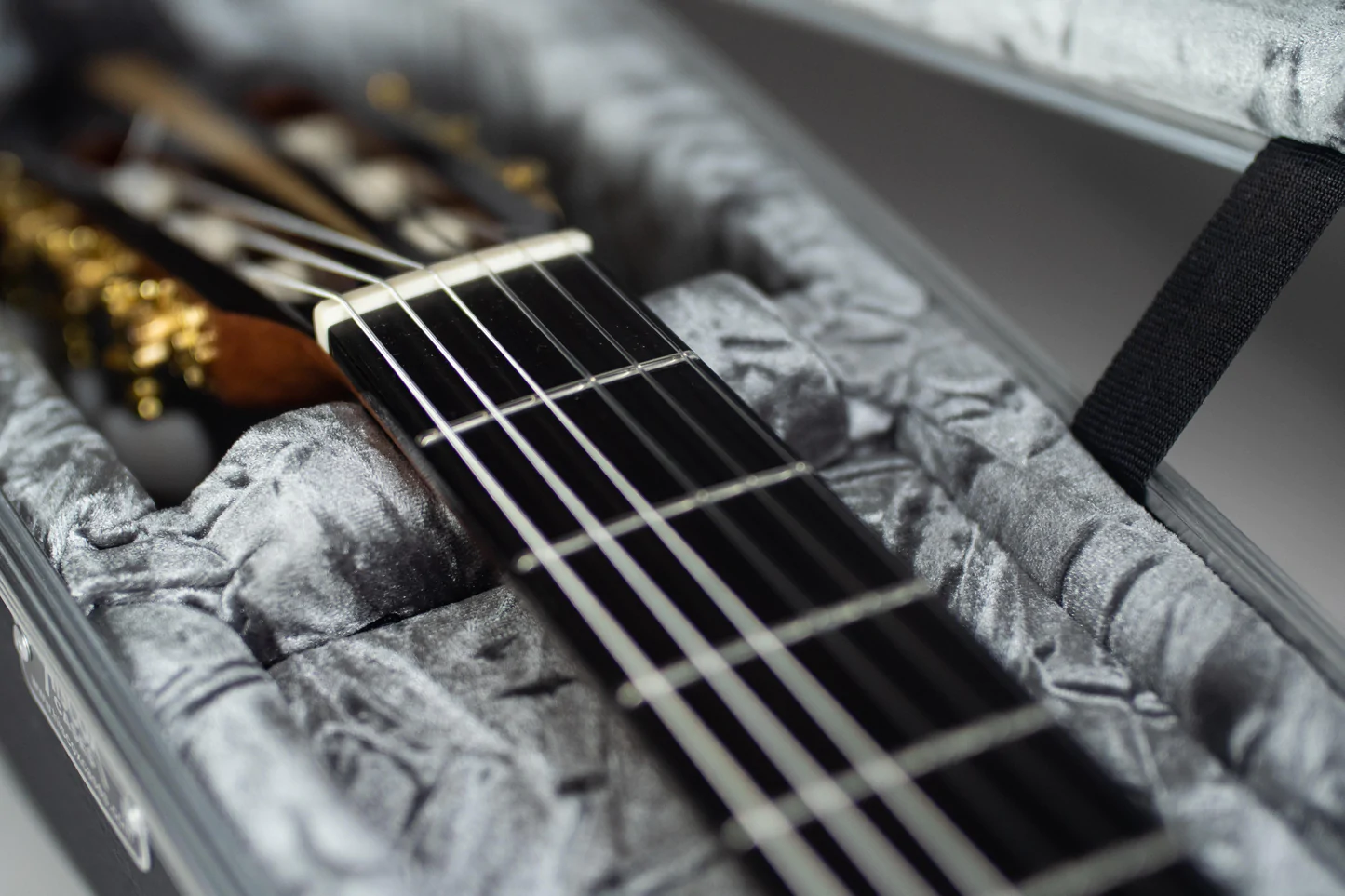 Triple Shield Technology
Every Hiscox case has our unique Triple Shield Technology giving your instrument the exceptional lightweight protection relied on by over 600,000 musicians world-wide.
Crush Strength: Our cases can withstand an immense 500kg (½ tonne) crushing weight on them whilst keeping your instrument completely safe inside.
Shock Absorbance: Hiscox's unique Shock Absorbance Technology reduces even heavy impacts to safe levels keeping your instrument protected even in the toughest conditions.
Thermal Insulation: Each case includes our Thermo-Balance Engineering that resists changes to temperature, keeping your instrument in tune longer.
Incredible Crush Strength
Put our case flat and 5 people can stand on it (Check out the video). In fact, a Hiscox case can comfortably withstand over ½ tonne – that's equivalent to a grand piano or a horse! Ensuring your instrument is protected by one of the toughest cases in the business and able to withstand the fiercest pressures.
Tough Outer Shell
Our cases use the highest-grade ABS plastic for the outer shell – that's the same stuff as Lego and you know how tough that is! Plus, ABS is 100% waterproof, it's colourfast so it won't fade over the years even in direct sunlight. It wipes clean and is scuff and scrape resistant keeping your case looking great even after years of use.
Shock Absorbing Technolgy
In between the outer shell and the lining is our unique Hiscox Shock Absorbing Technology (SAT) using our own blend of polyurethane to create one of the most shock absorbent materials on the planet. It bonds to the outer shell and the lining to create one solid structure that absorbs even the most severe shocks and gives the case its superior strength and toughness in a lightweight case.
Luxurious Lining
Inside our cases you'll find beautiful luxury crush velour (nothing but the best for your instrument) which not only adds to the warm aesthetic of your case but also has some very practical features. First, it's non-shedding which is crucially important since you don't want to be picking strands of fibre out of your instrument mid-performance. It's also dye-fast (to level 5 – the highest standard anywhere in the world) which means there's no risk of the dye 'bleeding' into your instrument even if it's spent years in the case. (We field tested this with a white Brian May guitar which stayed in a case for over a decade and is still pristine!).
Exceptional Temperature Control
Every Hiscox case includes our Thermo-Balance Engineering (TBE) which reduces rapid heating or cooling of the inside of the case. This essential technology helps stop stringed instruments losing their tuning through expansion or contraction meaning that your instrument stays in tune longer whatever the weather. This technology is further enhanced if you choose a model with an ivory shell. Tests have shown that our ivory cases constantly stay 10°C (almost 20°F) cooler than the black when subjected to any heat source.
Anti-Whiplash Guard
Our cases hold your guitar in a firm but gentle grip which cushions against any blows and vibrations which could cause breakage at your instrument's weak points, such as the headstock. Our carefully placed padding allows vibrations to pass through the case reducing harming to your guitar. We even cater for different electric guitar neck angles (0º-4º) to ensure your guitar has the snuggest fit.
Liteflite
Every material we use from the polyurethane to the aluminium band is designed for strength, durability and its feather-light properties giving you the ultimate in damage protection and carry-comfort.
Handle (Without care)
When you lift your Hiscox case with our uniquely designed handle you'll at once notice how comfortable the fit is and how balanced the case is as you walk. We've even angled the case (where possible), so you don't have to adjust your grip as you go up or down stairs. And although no one has invented the 100Kg guitar our handle can easily withstand that pull-weight and more!
The Finest Fixings
We hand-fit the aluminium band that runs around the lips of the case for a super-tight fit that ensures the case is so rigid you can comfortably sit on it. Plus, our double-lipped design adds significant water resistance to the case (should you find yourself in a storm!). And finally, the latches, hinges and handle are securely engineered to the aluminium band so they'll never fall off.

Our latches and hinges are all 100% steel nickel plated so they won't rust and are designed for decades of trouble-free use. The latches are made to our unique smooth, no-edges design so they won't snag or tear clothes, fabrics or your car seat! One latch is also lockable adding that extra important touch of security.

All handles, latches, locks, hinges and strap fixings (Pro II & Artist) come with a 5 Year Guarantee.

Inside the case you'll find a handy braided fabric retainer which stops the case lid from falling flat reducing much needed stage space. It keeps your lid in convenient reach and the retainer folds neatly away from your instrument to avoid snagging. And all our cases are beautifully balanced so when you remove your instrument they don't fall back.

Most of our product range includes steel D ring fixings to attach carrying straps or the Hiscox backpack system. Each have special screw gate carabiner fixings eliminating the possibility of the case becoming separated from the strap.
Hiscox Finishing Touches
Our Bit Boxes give you enough space to carry strings, nuts, capos, picks, tuners and more, keeping you prepared and organised.

Each guitar case has a small cavity for your strap pin so if you rest your guitar upright the pressure is evenly distributed across the base block and not on the weak point of the strap pin.

Our case lids are cleverly engineered with our Safe Space design to ensure that no pressure is applied to your guitar's switches and knobs so there's no risk of damage to delicate technology.